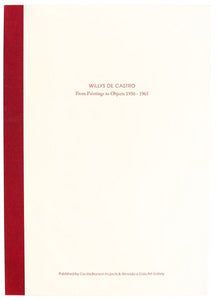 Published by Cecilia Brunson Projects and Almeida e Dale Art Gallery, 2016
Excerpt from catalog's forward:
"Regardless of having completed a university degree in chemistry, Willys de Castro worked as a painter, printmaker, theatre designer, graphic designer, concrete poet and composer. In 1953 he began producing his first works in a constructivist orientation. It was also during the mid-1950s that he began producing visual poetry. Around this time, fellow artist Hércules Barsotti opened a graphic design studio, and these activities would have brought de Castro within the realm of the Sao Paulo concrete art (and poetry) groups. 
In 1958 he went on an educational trip to Europe. The following year, on his return, de Castro became a founding signatory of the 1959 Neoconcrete Manifesto in Rio de Janeiro with fellow artists Hércules Barsotti, Ferreira Gullar, Franz Weissmann and Lygia Clark. The group formed as a reaction to the perceived orthodoxy of Sao Paulo concrete art and poetry. His involvement in the movement would substantially further its theoretical engagement with phenomenology, being both highly significant and original. ..."