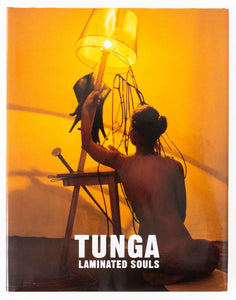 Laminated Souls
 is a poetic environment which explores imaginary laboratory aesthetics, a hypnotic experiment centered around interconnected modules and instruments from the artist's personal vocabulary. After a first realization in 2004, Tunga installed 
Laminated Souls
 at the Botanical Gardens in Rio de Janeiro two years later, where he used the work like a stage setting for a performance with an extensive cast - two scientists, flies, frogs, lamps, and a host of performers in a process of discovery that the artist instigates to test the fields of meaning within his work. In 2007, Tunga further developed some of these motifs and props in his sculptures for a solo show at Luhring Augustine, while he juxtaposed 
Laminated Souls
 as part of an intense 2-floor exhibition at P.S.1 with another of his major recent installations, 
At the Light of Both Worlds
. This book weaves all strings of a loose work complex together, both in a spirit of investigation and documentation.
This volume includes an interview with Tunga by Beverly Adams, curator of the Halle Collection.
132 pages
Color plates
Hard-bound