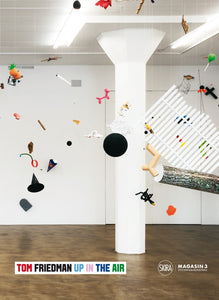 The book, richly illustrated with previously unpublished photographs and sketches, gives a unique insight into Tom Friedman's largest artwork made for a solo exhibition. In the monumental work Up in the Air, Friedman transforms everyday objects such as toothpicks and toilet paper into extraordinary works of art. Made for a major retrospective at Magasin 3 Stockholm Konsthall, Up in the Air consists of nearly a thousand meticulously handcrafted objects.
Features an essay about Tom Friedman by art historian Charlotte Eyerman. Preface by David Neuman. Text by curator Richard Julin based on conversations with the artist during the preparatory stages the exhibition.
Produced by Magasin 3 Stockholm Konsthall in collaboration with Skira, 2013.